Posted by Erin Lewis on Mar 10th 2023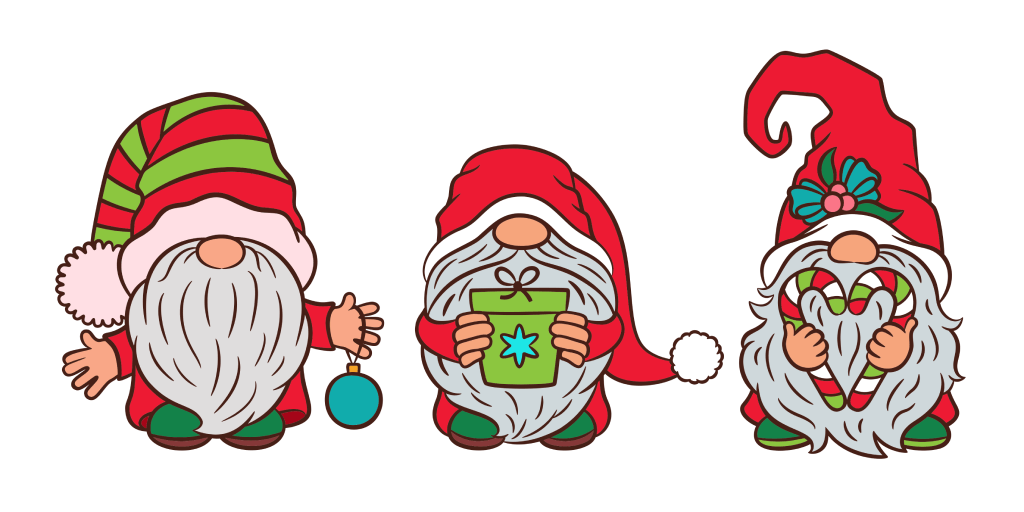 Gnome Christmas ornaments have become a trendy gift in the last few years. While gnomes used to be popular mainly in Norway and Sweden, they have recently become a popular choice of Christmas decorations for the United States.
Gnomes are cute, affordable and are said to protect us from misfortune. Here are three fest gnome Christmas ornament ideas to consider this year.
1. Holiday Gnome 3-Piece Ornament Set
Since gnomes have become festive characters during the holiday season, this 3-piece ornament set is the perfect gift for friends, family, or even for your tree. Gnomes are known for bringing good luck and prosperity, so these cute gnomes may be the charm you want to give during the holidays.
The three mini gnome Christmas ornaments are all designed a bit differently. One gnome holds a Christmas tree with a star on top, and his hat is polka-dotted and striped. Another gnome is holding a candy cane and has a hat with snowflakes on it, with the bottom portion striped.
Your last gnome is holding a Christmas ornament; his hat looks like Santa's with a bell on the top. All the gnomes are designed differently but look like the perfect trio together.
2. DIY Gnome Christmas Tree Ornaments
These do-it-yourself handmade gnome ornaments are so fun and easy to make. Even if you are not crafty or have no experience making ornaments, you can easily create these gnome ornaments in just five steps.
You will need:
Wood circles
Felt
A wood beard
Fake fur,
Baker's twine
A beard template
Scissors
Markers
Glue sticks
A hot glue gun.
Cut out the beard shape with the fake fur, attach the beard piece to the wooden circle, create the felt hat, attach the nose, attach the hanger, and glue down your hat.
The best part about creating these gnome ornaments is that you can use any colors you want to customize your gnomes based on your friend's favorite colors.
Yarn Gnome Ornaments
Anyone can make these cute yarn gnome ornaments in under thirty minutes, and you don't need to sew anything. These gnomes can be hung on the Christmas tree or they can be strung together to be hung up as wall decor, making them a great gift for Christmas time.
You will need:
A felt sheet
Thick yarn
Twine
Fabric scissors
Wood circles
A wood ball
A fine-tip paintbrush
A hot glue gun
Clear glue sticks
A printable gnome Christmas ornament pattern for the hat, and paint
To make your yarn gnome ornaments, use the yarn to make a pom pom. Tie the piece of yarn into a knot tightly around the wrapped yarn.
To decorate the gnome hat, you can use buttons, or you can simply paint it. Print out the pattern for your gnome hat and place it over your felt sheet, cutting out the hat. Use your hot glue gun to overlap the corners of the hat and place it together.
Cut your twine and fold it in half, tying it to surround the pom pom. Thread the end of the twine through the top hole of your hat, creating your hanger for the ornament. To finish, glue a wood ball to the rear portion of the hat and glue two painted buttons or circles on the anterior of the hat.
Frequently Asked Questions
What do Christmas gnomes symbolize?
Gnomes originated in Scandinavian folklore but were originally house gnomes that lived either in or under a house. They were said to protect children and animals from any evil or misfortune. Recently, Christmas gnomes have taken on a similar role to Santa.
In Scandinavia, gnomes are like elves because they bear presents. While elves reside at the North Pole, gnomes come out of the forest on Christmas day, walk through children's homes, and deliver gifts.
Why are gnomes so popular?
Gnomes are most likely so popular because they resemble Santa or an elf. Gnome Christmas ornaments are also popular because they bring good luck, warmth, happiness, and magic. According to legend, gnomes protect people from any misfortune.
Are gnomes still trending in 2023?
Yes, gnomes and Christmas gnome ornaments are still trending in 2023 and are likely to continue to trend. Gnome Christmas ornaments are a creative way to decorate that is relatively inexpensive to purchase or make. You can even customize them into personalized gnome Christmas ornaments for the tree.
Shop Wendell August Forge for Gnome Christmas Ornaments
Gnome Christmas ornaments can be the perfect Christmas gift for your friends, family, coworker, or neighbor. If you want to purchase a gnome ornament for the holidays, check out our Holiday Gnome 3-Piece Ornament Set today!