Posted by Erin Lewis on Jul 6th 2022
5 Unique Personalized Christmas Gift Ideas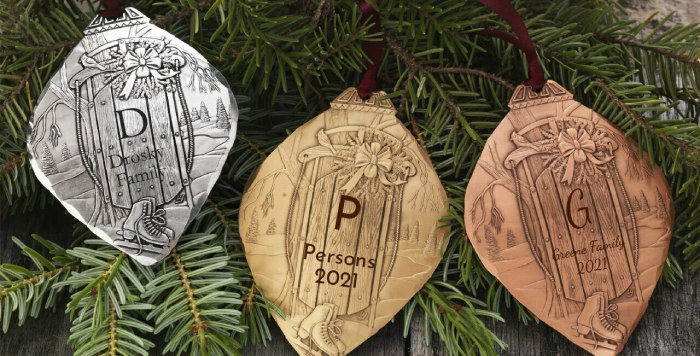 The holidays are all about spending time with family and friends, exchanging Christmas presents and special messages that show how much you care about them.
Of course, coming up with personalized Christmas gift ideas for family and friends is easier said than done. While it can be easy to go with a gift card, consider these ideas for Christmas gifts that add a more personal touch.
1. Personalized Birthstone Ornament
When it comes to personalized Christmas present ideas, it doesn't get more eye-catching than a custom birthstone ornament. The Mandala Birthstone Ornament features an intricate design and each is adorned with a stunning Austrian crystal. Make this a truly personalized gift by adding a special message to the back that will be cherished.
These beautiful ornaments make the perfect family gift. Get one for each of your family members and add some extra sparkle to your Christmas tree for the years to come.
2. Personalized Tree Topper
A Christmas tree is the staple of the holiday season. This personalized Christmas gift idea is perfect for adding holiday cheer to small spaces. Adorned with stunning crystal, our new handcrafted Personalized Mini Tree Topper will make a beautiful addition to any space's holiday decor.
This tree topper can be personalized with a family name, making it a great holiday gift for newlyweds celebrating their first Christmas as a married couple.
3. Personalized Milestone Ornament
Personalized Christmas gift ideas for friends can be extremely meaningful, especially when they celebrate a major milestone. For instance, Our First Christmas Wedding Bell Ornament can make the perfect gift for your best friend who just got married. It can be personalized with the year and names of the newlyweds.
Or, add a favorite milestone or memory from 2022 to an elegant handcrafted ornament. From graduating, to a first home, to a favorite vacation or engagement, the Milestone Ornament also makes a great stocking stuffer.
4. Personalized Family Tree Sun Catcher
This meaningful Christmas gift idea can still be used after the holiday season. The Personalized Family Tree Sun Catcher Ornament, is a customizable piece that grows as your family expands, with each person's name engraved on a metal tag delicately hung from the tree's roots.
The eye-catching display will make a statement on a Christmas tree but can also be hung year-round near a window to catch the sun's rays.
5. Home For Christmas Annual Ornament
This Christmas gift idea is for the collector in your life. For more than 40 years, the Wendell August Forge Annual Ornament has become a tradition cherished by families across America. Start a new tradition with your long-distance friends or family members with the 2022 Annual Ornament.
Christmas Gifts From Wendell August
Wendell August gifts are unique symbols of the stories, traditions and milestones that bind us together. Every piece we manufacture is handcrafted in America and our manufacturing process helps us achieve unmatched details and quality.
Shop our personalized Christmas gifts today.