Posted by Samantha Crawley on Jun 28th 2019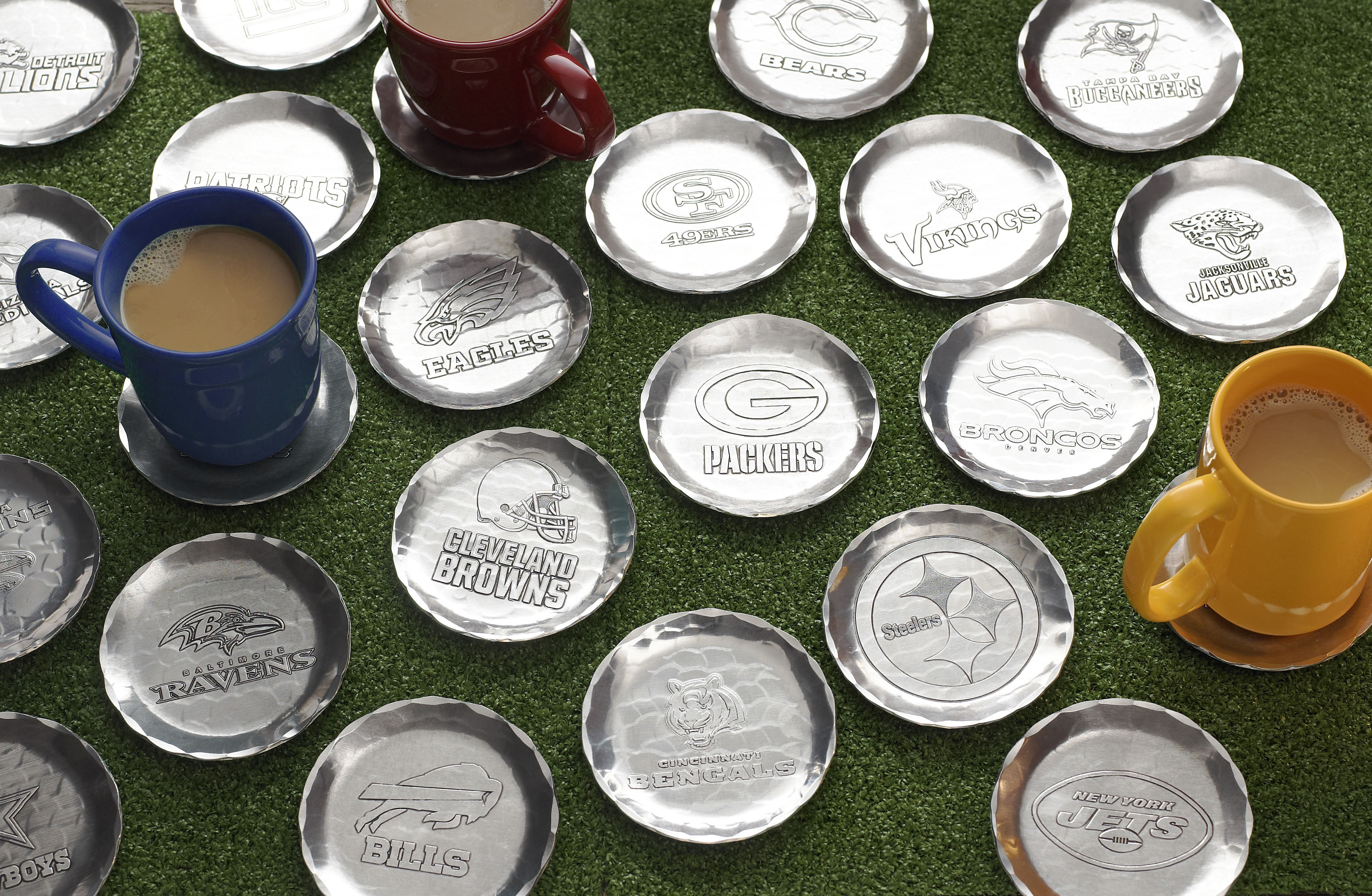 For fans of the NFL, the season lasts for the entire year. Even in the summer when there are no games being played, there are people who constantly sport their team colors and show their pride in their favorite teams. You see it at tailgates, on road trips, at the beach, in the mountains and everywhere in between. But the place where we best show off our fandom is in our own homes.
That's why gifts that show off the logo of your favorite team and the colors of your team are always great choices for your family and friends. At Wendell August Forge, you can get the perfect gift for the big football fan in your life with NFL team coasters that are branded with team logos and cast in aluminum and bronze.
The coasters come as individual coasters or in sets of four with a caddy, giving a great presentation for a living room, man cave, or bar setting.
Wendall August Forge is proud to offer NFL team coasters to let fans of this great sport showcase their fandom in their homes in an elegant and stylish way. It is through our hand-crafted process that we are able to create great gifts like coasters for homes across the country to add a special touch. That is our history and our legacy.
Wendell August Forge is the oldest and largest in America, started in 1923 and crafting hand-wrought ornamental gifts and treasures ever since. For nearly a century, we continue to follow our specific and detailed process in making gifts that are unique and stand the test of time. Every piece we create is unique and has its own story. With each piece, we celebrate the uniqueness of our craft, from the hidden signature of the engraver in the design to the craftsman mark on the back.
Our expert artisans hand-etch the original designs into a die before craftsman use an eight-step hand-wrought process rooted in ancient metalworking techniques. With our dedicated process delivering great gifts, you will be proud to give and receive these as gifts and share the fine craftsman work with everyone around you. These are pieces that you will want to display throughout the year and show off to your family and friends.
Outside of NFL team coasters, we specialize in Christmas ornaments that can be shared with family for generations to come. Each ornament is specially crafted and handmade, each being a decorative symbol of the holiday season that you will want to display. These ornaments are forged in aluminum and other metals and feature creative and meaningful designs that completely embody the Christmas spirit.
Outside of ornaments and coasters, there are many home decor items that Wendell August Forge has to offer from bowls, dishes, and glassware to cutting boards, tabletop decor, and other accessories that look great in your dining area.
Many of these items can also be personalized to commemorate a special occasion. If you have friends or relatives that are planning to celebrate a wedding, just welcomed a new child or celebrated another life milestone like a graduation, buying a new house or starting a new job, give them a special gift that will help them remember the occasion and special moment in their life. Personalized gifts can be especially touching and thoughtful, and what better way to celebrate a momentous occasion than with a gift that is created by hand and designed to last a lifetime.
These little heirlooms may sometimes not seem like much, but they help to tell our stories. Everything we put in our homes is part of our story, whether it is something that shows our sports fandom like NFL team coasters or something that marks a special day in our lives like a wedding or the birth of a child.
At Wendell August Forge, we have everything from functional and decorative metalware to personalized ornaments, jewelry, home decor and table pieces that can complete any room.
From our home in Central Pennsylvania to yours wherever you are, let us help you celebrate the best moments in life and your favorite things in life with a special gift that is hand-crafted by expert craftsmen and artisans.
If you have any questions about anything, from our products to our process and everything in between, feel free to give us a call at 800-923-4438 or send an email to info@wendell.com to find out more information or have your questions answered. We not only provide a quality product that lasts a lifetime but also the best customer service so you can get items that you will proudly display and showcase in your home for years to come or to get that perfect gift for someone else's home that they will keep close to them forever.
With Wendell August Forge, it's about celebrating the great things in life and our favorite things with items and gifts that will endure for years and years.