Posted by Erin Lewis on Aug 2nd 2022
Try These Beautiful Nativity Set up Ideas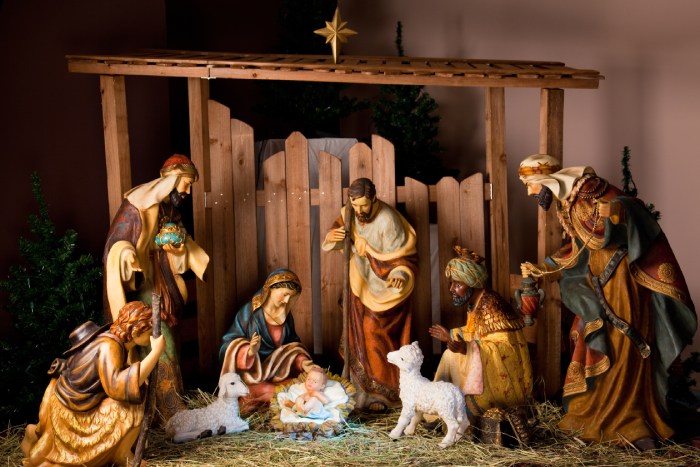 Christmas is the most wonderful time of year. Between gathering with family members, exchanging gifts with friends and reminiscing on the true meaning of the day, there are so many different ways to celebrate.
Decorating for the holiday is another simple way to get everyone in the Christmas spirit. Beyond the tree, there's another traditional decoration to look forward to every year: the nativity scene.
We use the nativity display as an opportunity to reflect on the birth of Jesus, where Mary, Joseph, the three wise men and the shepherds and their animals gathered together in what would eventually inspire Christmas Day.
Let's take a closer look at the history of the scene and some potential ideas for your nativity display:
The History of the Nativity Scene
According to the United States Conference of Catholics Bishops, the first nativity scene was created and staged in 1223 by St. Francis of Assisi. Since then, there have been countless depictions of the iconic scene created and displayed around the world at Christmastime.
Consider These 2 Nativity Setup Ideas
Are you interested in adding another piece of timeless decor to your Christmas setup? Here are two different ways to put your nativity scene on display:
1. Put a Traditional Nativity Scene on the Mantel
The mantel is one of the perfect foundational spots in your home for Christmas decorations, especially the nativity scene. Our Mini Nativity 10-Piece Boxed Set, for example, is a modernized take on the classic nativity scene, crafted with pewter by our expert artisans. It's the perfect size to display the true meaning of Christmas alongside your other festive holiday decor.
2. Hang Nativity Ornaments Instead
You don't necessarily need to put small trinkets out to show your love and appreciation for the original Christmas story. If you need a nativity scene set up idea that's child and pet proof, consider hanging one of our Limited Edition Nativity Ornaments instead.
Our Vintage Nativity 6-Piece Ornament Set makes a lovely and convenient keepsake. This allows you to celebrate the true reason for the season without worrying about losing pieces to your nativity scene setup.
Shop Wendell August Forge for Nativity Display Ideas
No matter which Christmas nativity scene idea you prefer, we at Wendell August Forge can assist. Browse our collection of nativity sets and designs today to find the metal nativity Christmas decor that fits your style.