Posted by Wendell August Forge on Sep 21st 2023
For many people, giving Christmas gifts to friends is one of the biggest joys of the holiday season. But coming up with the perfect Christmas gift ideas for your friend group can sometimes be tricky.
There are a lot of questions you have to answer before you can find the perfect Christmas gift ideas for friends. What do they like to do? How are their homes decorated? Do they have pets?
That's why we created this guide to help you narrow down your Christmas gift ideas for your friend group. From stocking stuffers to gag gifts to fuzzy socks to holiday decor, here are five memorable Christmas gift ideas for your friends.
1. Stocking Stuffers
Everyone loves the tiny gifts known as stocking stuffers and with good reason. These cute and often silly gifts are easy ways to show your friends you care without breaking the bank.
These small Christmas gift ideas for friends can be anything from a fun makeup item to a small bottle of hot sauce they've never tried before. Stocking stuffers can be serious gifts—things you know they need and love—or they're the perfect opportunity for small, inexpensive gag gifts to make someone laugh.
2. Experience Gifts
If you have a large friend group and need an idea that works for everyone, think about giving the gift of an experience you can all enjoy together. This can be a fancy dinner, a concert or a movie, or even something like playing mini golf together.
Create custom invitations to set the mood, and invite all your friends to come together and create a memory. If you're on a budget, you can invite friends to a holiday potluck and gift exchange at your home as a fun and inexpensive way to show you care.
Experience gifts are great for people who don't want any more clutter in their house, or for the person who already has everything. Instead of struggling to find a gift idea that they may just stick in a closet and forget about, giving the gift of an experience is something you can enjoy together and then remember for years to come.
3. Jewelry
Jewelry makes a great Christmas gift idea for friends because while it's small, it's easy to personalize to each friend. Hopefully, you know from observation what kind of jewelry your friend likes to wear. But if not, a reconnaissance mission is relatively easy! Find out what kind of jewelry they usually wear, and find a gift that matches those pieces well.
Choosing a piece of jewelry is a personal experience, and you have to know your friends well to choose something they'll like. Just the act of choosing the right piece is a great way to show you care. There are also tons of personalization options for jewelry to make it your own. Add their name, the year you met, or the name of someone important to them.
In this family of gifts, you can also give jewelry storage or display items, like necklace trees, jewelry boxes, or other display items. Sometimes these items are customizable, so you can personalize the gift with their name, a fun inside joke, or a phrase you know is comforting to them.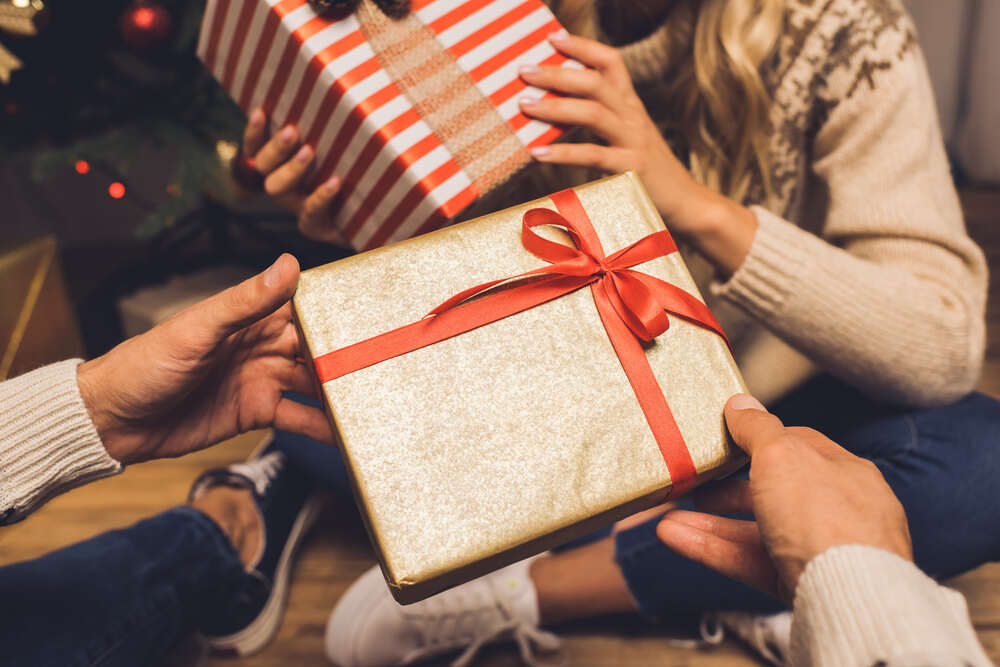 4. Soft and Cozy
Who doesn't love a cozy blanket at the holidays? Another great Christmas gift idea for friends is cozy, cuddly blankets and home decor. Finding a super soft blanket or a cute decorative pillow is an easy way to show you care with a gift they can use all year round.
While you can go a traditional route and gift blankets or decor that are neutral colors or patterns, you can also have some fun with it. You can create custom blankets or pillows online with pictures of your friend's face, their pets, or a funny phrase. Or, choose a blanket from their favorite sports team or TV show.
Another category of soft and cozy that goes beyond decor is clothing. Everyone loves a super soft hoodie or pair of fuzzy socks to keep warm during the winter months. You can even make a little gift basket of all things cozy: Include a pair of fuzzy socks, a cozy blanket, and a mug with some coffee or hot chocolate. Now your friends can have a cozy night in, on you.
5. Holiday Ornaments
One of the best parts of the holiday season is decorating, so give your friends the gifts of memorable Christmas ornaments. You can choose an ornament you know they'll love that will compliment their existing decorations, or you can have a little fun with it.
There are so many options for holiday ornaments. You can choose one from their favorite sports team, or from their alma mater. If they have pets, you can usually find an ornament version of their furry friend to hang on their tree. You can also make your own custom ornament with a photo of their pet.
If you want to combine holiday ornament gifts with an experience, create your ornaments together. You can DIY an ornament at home, or find a place where you live that can help you create them. Then not only will you both have matching ornaments, but you'll have a memory of creating them together.
Shop Christmas Gifts for Friends
It can be tricky to find the perfect Christmas gift ideas for friends, so we've curated a collection of the best gifts for you to choose from. Browse our collection of gifts for friends today to find the perfect gift this holiday season.
Our collection includes home decor like personalized trays and coasters, as well as customized jewelry and Christmas ornaments. No matter what your friends love, Wendell August Forge has something for everyone.