Posted by Wendell August Forge on Jul 11th 2023
Teachers play such an important role in everyone's lives, so this holiday season, show your favorite teacher you care. Whether they're your own teacher, a child's teacher, or just someone you love, a Christmas ornament is a great way to show your appreciation and holiday spirit.
Everyone loves having ornaments to remember the best moments of the year, and teachers are no exception. Here's a list of the five best teacher ornaments for Christmas to give to the educator in your life to help them remember and celebrate the best moments of the school year.
1. "Best Teacher Ever" Ornaments
"Best teacher ever" ornaments are a classic, and with good reason. People love to know their hard work is appreciated, and these ornaments are a great way to show your teachers you see them. You can find tons of personalized ornaments that say "best teacher ever," so you can choose one that matches your teacher's personality or interests.
Or, to add a personal touch, you or your child can make your own "best teacher ever" ornament. You can do something simple like a handprint of your child with the text over top, or you can create more complicated designs. A simple phrase like "best teacher ever" can go a long way. It lets your favorite teacher know that you appreciate all their hard work.
2. Favorite Subject
Another option for the best teacher ornament is one that celebrates the subject they teach. You can find cute ornaments with flowers or planets for science teachers. You can also find bookish Christmas ornaments for English teachers, and ornaments featuring art supplies for an art teacher.
No matter what subject they teach, there are tons of creative best teacher ornament options that they can show off on their tree every year.
3. Photo Ornaments
These are another kind of the best teacher ornaments for Christmas that you can find online somewhere or make your own for a personal touch. Find a favorite photo from the school year of you or your child with your teacher, and commemorate that moment in a photo-frame ornament.
You can find these Christmas ornaments online with designs like the school year, the grade you or your child was in, or the event at which the photo was taken. That way, every year when your teacher unpacks the ornament to hang on their tree, they'll be brought right back to that sweet memory.
You can also easily make frame ornaments by gluing together popsicle sticks and using cardboard as the backing for the photo. Hand-made gifts are a great way to show you care, involve your kids, and give someone a gift they'll cherish.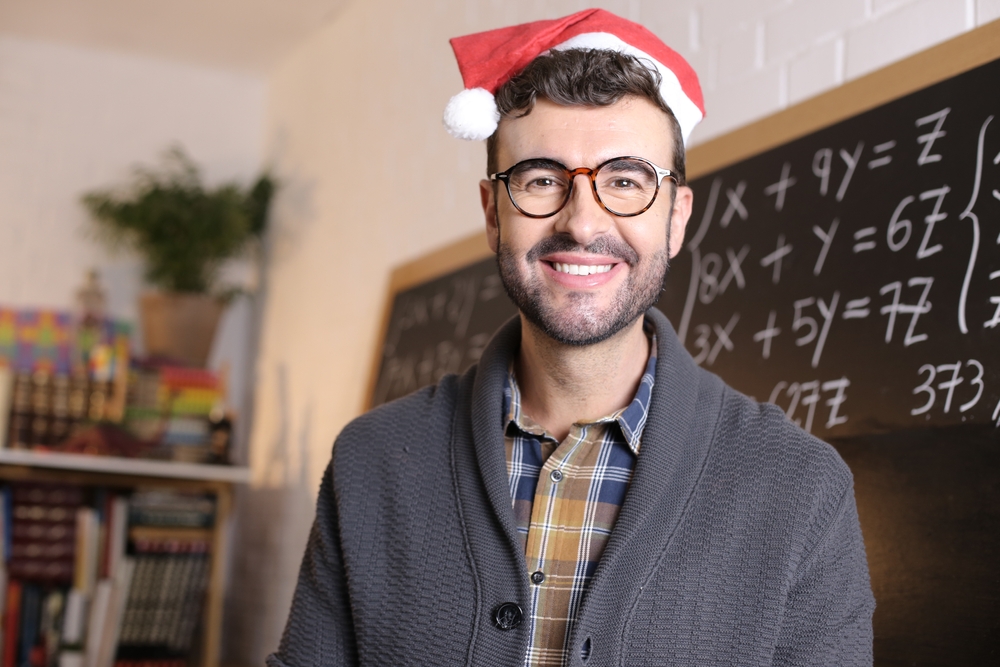 4. School Spirit
Is your teacher at every football game? Do they know all the pep rally songs? Do they come to the pick-up line wearing a school t-shirt? If so, a great teacher ornament for that teacher is one that shows off their school spirit.
If they love your school's sports team, marching band, or cheer squad, why not get them an ornament of a football, instrument, or pompom? Or, if your school's mascot is an animal, you can find an ornament version of that friendly critter to show your school spirit in a subtle (and cute!) way.
Some places will allow you to customize your ornaments, so you can add things like your school's name, slogan, the year you attended, and more to help your teacher remember you long after graduation.
5. Puppy Love
Everyone loves their pets, and who wouldn't want to show them off on their Christmas tree? If you know your teacher has a furry friend at home, a great teacher ornament option is to get them an ornament of their pet. Or, you can get them a paw print ornament that has their pet's name.
Or, if your class had a class pet like a rabbit or a hamster, you can get your teacher an ornament to commemorate your shared furry friend. Put their name, your class, and your year, so that your teacher can remember you all for years to come.
Find the perfect gift today
Finding the perfect gift for someone as important as a teacher can be difficult, but at Wendell Forge, we have options for you to do just that. Shop our collection of teacher gifts today to find the perfect way to say thanks for all you do.