Posted by Wendell August Forge on Jul 11th 2023
Every year, Christmas tree decorators everywhere have to decide the age-old question: White lights, or multi-colored ones?
Everyone has their own reasoning for choosing white or colorful Christmas tree lights. For some, big, colorful strings of lights remind them of their childhood. For others, the clean, sophisticated look of white lights on the tree is hard to beat.
Regardless of what color lights you choose, the next step is to choose Christmas ornaments that complement the color scheme. If you're in the multi-colored lights camp, we have a list of the best ornaments for multi-colored lights to help you create the perfect family tree this holiday season.
Best Christmas Ornaments for Multi-Colored Lights
There are a couple of different routes you can take when it comes to choosing ornaments for colorful Christmas tree lights. Depending on the kinds of ornaments you have (or want to buy) and how you want your tree to look, different ornaments will be the right choice for you.
You can go the homemade and nostalgic route by using ornaments from your family and childhood. Or, if you're starting your ornament collection from scratch, there are colors and patterns of ornaments that make some of the best ornaments for multi-colored lights.
Childhood Wonder
Everyone has an image in their mind of what their childhood Christmas tree looked like, and using those childhood ornaments with multi-colored lights is a great way to recreate that experience.
If you're the kind of person who saved all their childhood ornaments, dust off the box and break them out again this year. Since colorful lights tend to evoke nostalgia and memories of Christmas trees past, lean into that aesthetic by using family heirlooms and childhood ornaments.
Though your tree may not look like the cover of a magazine, ornaments from your childhood or family are some of the best ornaments for multi-colored lights because they speak to your family and your history. You can share stories from your childhood as you unpack each ornament, and every time you look at your tree through the holiday season you'll be bringing back those warm memories.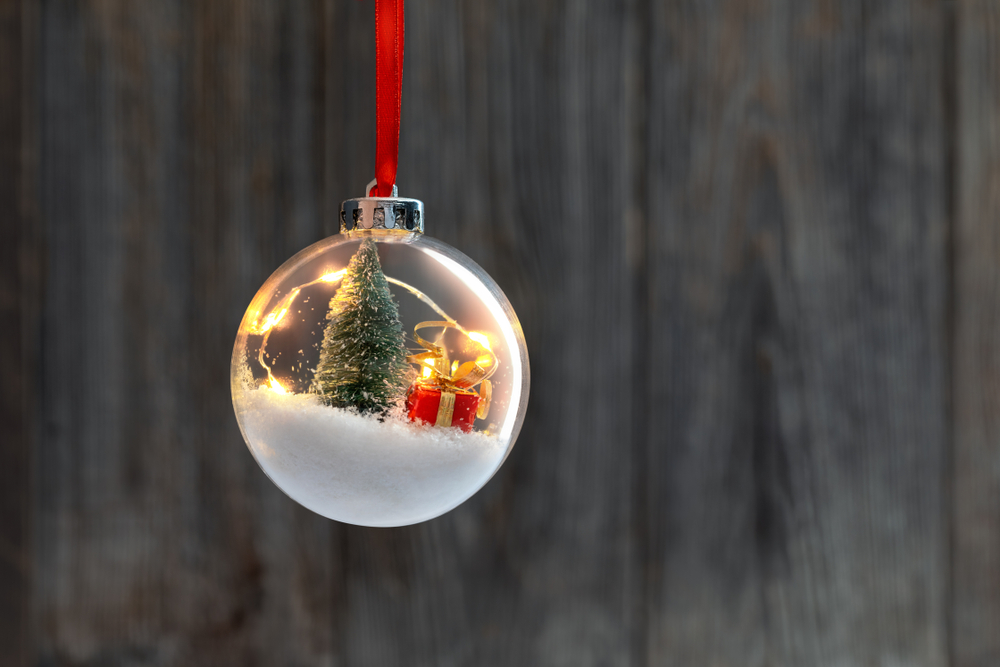 Light from Within
If you choose to go the multi-colored light route, you want to make sure you show off those colorful strings. One of the best ornament colors for multi-colored lights is clear: Show off those lights!
Try finding ornaments that are clear or lightly colored, so that when they hang in front of a lightbulb the color can shine through. This will highlight all the different colors in your light string and make the colors dance all over the room—especially when the lights are out.
You can also find ornaments that are clear and fillable so that you can string your lights through them and show off the colors even more. Or, find ornaments that light up from within in colors that complement the lightbulbs on your string. Even though these are battery-operated, if you hang the ornament in the right place you'll be able to make it look like a continuation of your lights.
When choosing clear or light-colored ornaments, think about texture as well. An ornament with an etched glass pattern or molded plastic case might interact with the light differently, creating cool effects and shadows.
Go Classic
Even though some people may love a colorful and chaotic tree, you may be looking for a way to show off your colorful lights and still have a touch of sophistication on your tree. If that sounds like you, then you need to choose ornaments that let the colorful lights be the star of the tree.
When choosing your ornaments, try choosing ones that are all the same color, like silver or gold. This will still let you show off your personality through the ornaments you choose, but they won't compete with the colorful lights. In fact, the solid colors will compliment the multi-colored strings of lights, giving your tree a complete look.
Shop Classic Christmas Ornaments
To find the best ornaments for multi-colored lights, check out Wendell August's classic ornament collection. Whether you're looking for a truly simple and classic ornament or want to add a personalized touch, we have everything you need to put the finishing touch on your colorful Christmas tree.