Posted by Wendell August Forge on Jun 13th 2023
For many, Christmas ornaments are a family tradition. Parents buy ornaments for their children each year, loved ones give them as gifts, and friends commemorate special moments throughout the year.
Hosting an ornament exchange is a fun, easy way to share the joy and tradition Christmas ornaments can bring. Here are some of our favorite ornament gift exchange ideas that you can use this holiday season.
Christmas Ornament Gift Exchange Ideas
Ornament exchanges can take many forms, but the basic idea is that every guest at a party brings one ornament, and throughout the party, each guest swaps ornaments with someone else through a game or other method. Here are some of the best Christmas ornament exchange ideas you can use at your own party.
For each of these ornament gift exchange ideas, you can create a theme that all your guests should stick to. For example, you can ask for all the ornaments to be related to an event from the year, celebrate a new birth in the family, or be made by hand at home.
You can also encourage everyone to find local or handmade ornaments to support local businesses during the holidays. While you don't have to have a theme and can let your guests' creativity run wild, a theme can be a good way to create a memory together.
1. Secret Santa
Most people are probably familiar with the idea of a Secret Santa, making this a great idea for an ornament exchange — everyone will know all the rules already. As the host, you can assign everyone's Secret Santa and leave yourself out, or you can use an online tool that allows you to participate while still keeping the identity of your Secret Santa a secret.
At your gift exchange, have all your guests put their ornament gifts together with the name of the recipient on the packaging. Have each person go find the gift with their name on it and start the exchange party! If you want to add an extra layer to the game, have each person guess who they think gave them that ornament.
2. Picking from a Tree
If you don't want or need the ornament gifts to be a surprise, you can set up a small empty Christmas tree in your home and have all your guests hang up their ornaments when they come inside. Then when it's time for the exchange, each person can see all the ornaments and choose the one they like the best.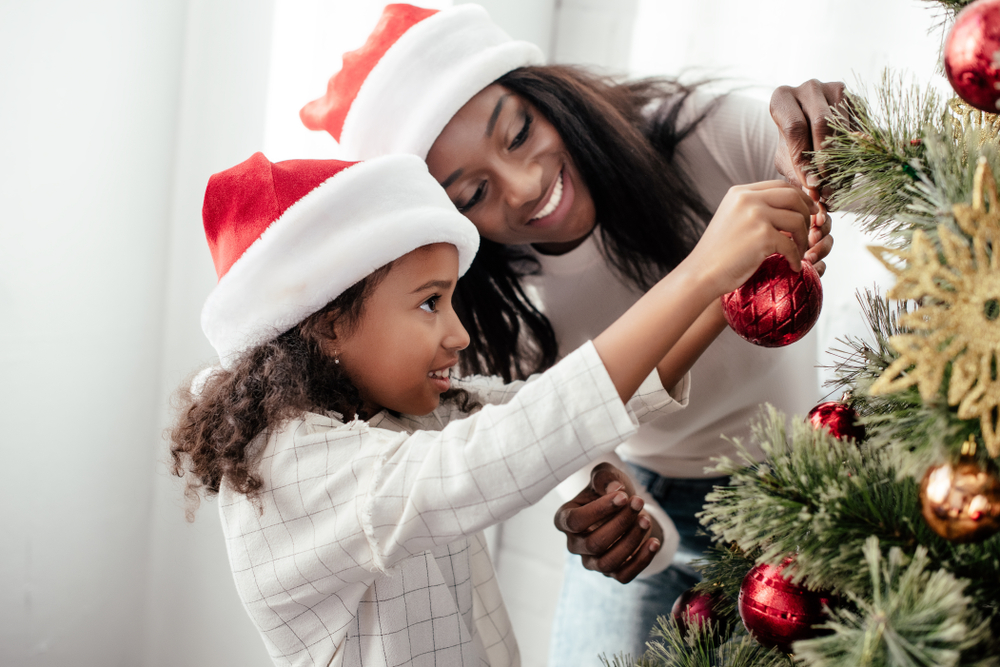 3. Musical Ornaments
This idea for an ornament exchange draws inspiration from musical chairs. Have everyone wrap up their ornament gifts and set up your party in a circle when it's time for the exchange with just one gift; keep all the rest under the tree or at a nearby table. Play some music (a perfect time for Christmas carols!) and have everyone pass the gift around the circle one person at a time.
When the music stops, whoever is holding the gift gets to keep it and leaves the circle. Take another gift from the table and keep playing until everyone has a gift. If you want to up the ante, create a playlist of music that gets faster with each song so that the game gets more intense (and fun!) as you go.
4. Swap & Steal (or White Elephant)
White Elephant is a common gift or ornament exchange idea. To play, have everyone bring one wrapped ornament to your gathering. Once everyone is assembled, have everyone draw a number from a hat or stocking. The person who draws one gets to choose a present to unwrap.
The second person can choose to unwrap a new present or take the one that the person before them already unwrapped. If they take the present from the person before them, that person gets to then choose another gift.
Keep going through this process until everyone has a gift and all the ornaments have been unwrapped.
Host a gift exchange to remember
All these ornament exchange ideas are great ways to spread joy during the holiday season while creating a memory with your loved ones. No matter if you choose one of these ornament gift exchange ideas or create a new game of your own, you're sure to have an enjoyable evening together—and get a lovely ornament as well! To get your ornament exchange started, browse our collection of classic Christmas ornaments today to find the perfect one.