Posted by Wendell August Forge on Oct 20th 2023
A Personalized Baby's First Christmas Ornament Makes A Great Gift Any Time Of Year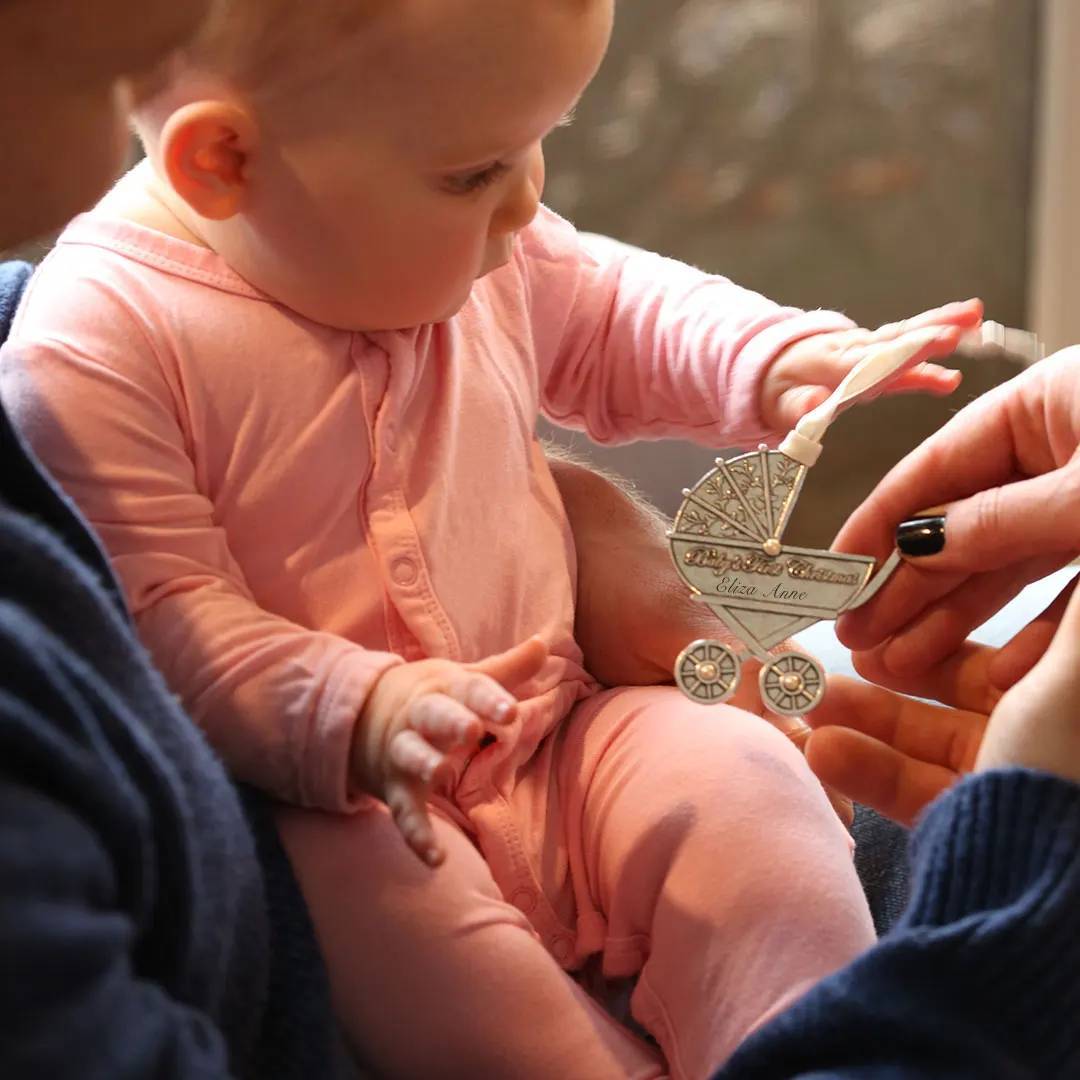 If you know a lucky couple that's been blessed with the gift of a baby on the way, it's high time to celebrate. The welcoming of a precious life into the world is one of the simplest and more powerful occasions that we live through. Charged with significance, the revelation of a coming child and the experience of raising a newborn are life-changing and unforgettable.
Whether it's for a friend or a loved one, there's no better time to give a special, personalized gift as the time for the celebration of a child on the way. There are lots of great options you could use to make memorable and timeless gifts to celebrate the occasion, ranging from shoes to clothing to children's toys.
One of the most personalized and specialized gifts you can give a couple expecting a child is a personalized baby ornament. They make great times at any time of year, and whether you give one with the big news, around the birthday or at Christmas, a personalized baby ornament from Wendell August Forge is quite the exquisite gift. They exhibit uncommon beauty and handmade quality that will last many lifetimes.
Give One On A Birthday or Baby Shower
Personalized baby ornaments make great gifts to give when you get the big news that a baby is on the way. A Baby on the Way Ornament will get them even more excited for their first Christmas with their new baby. Nothing will be remembered quite like a completely handmade ornament personalized with names or dates given in celebration of the big news. Even if our designs weren't as unique and captivating as they are, there's nothing like a personal touch to really bring a gift like a specialized ornament close to home.
When you get the big news that there's a baby on the way it's a great time to give a special gift, although the birthday is a fitting time as well. Commemorate the occasion with a gift like our Baby Zoo Balloon Ornament. This ornament features an ornately decorated hot air balloon in pewter carrying a cohort of friendly visaged zoo animals, one of the most enduring motifs for the celebration of children.
The best part is the fact that this ornament can be accented, and in fact is intended to be, with the name of the child on the way. It's entirely handmade from start to finish as is all of the metal artwork here at Wendell August Forge, engendering the kind of matchless quality that will last a lifetime. In time, it is a gift that can be given to the child and its history revealed.
First Christmas Ornaments
Christmas is another great time to give a personalized, special lasting gift to a family that has just welcomed the blessing of a newborn baby boy or baby girl into its fold. Here at Wendell August Forge, we are proud to offer many options to give as gifts to celebrate newborns, including a large selection of baby first Christmas ornaments.
Take a look through our pages of offerings for baby ornaments including first Christmas ornaments to find just the perfect gift for the happy family. Our Special Delivery Ornament in aluminum would make just as great a gift on a birthday as at Christmas.
It boldly shows off a stork carrying a precious bundle with a ribbon trailing to which you can add the name of the child. Among the snowflakes and clouds which have been painstakingly etched into the aluminum by hand float the words "Baby's First Christmas." An offering like this would make a cherished addition to the Christmas tree of any lucky family celebrating a baby's first Christmas.
Another great option for a gift for a baby's first Christmas is our Baby's First Rattle Ornament. Available in either blue or pink, these ornaments are splendid gifts to commemorate the precious memories that will be formed during such a special time. They're intricately and ornately decorated and feature a suite of Swarovski crystals to enhance their already beautiful aesthetics. As with our other custom ornaments, you can engrave the name of the child prominently across the front of the ornament to make it truly unique and personalized.
A Lifelong Gift
We offer these and many more personalized ornaments celebrating the coming of newborn babies right here at Wendell August Forge. Aside from the fact that they make beautiful, exquisite gifts that will be held in high regard and cherished infinitely, because of their superior handmade construction, they can be adored for life.
As with all of our handmade pieces here at Wendell August Forge, we create our artwork with the intention that it should be honored and then passed down. A personalized baby ornament from our store makes a particularly special gift because it can be given once to the parents, and then bestowed to the child later in life as a reminder of the sanctity of love and devotion of family.
These values and virtues are the same that guide our craft, and we strive to enshrine those principles into every piece we create. Take a look through our baby section today to find the piece that speaks to you.