Posted by Erin Lewis on Nov 6th 2022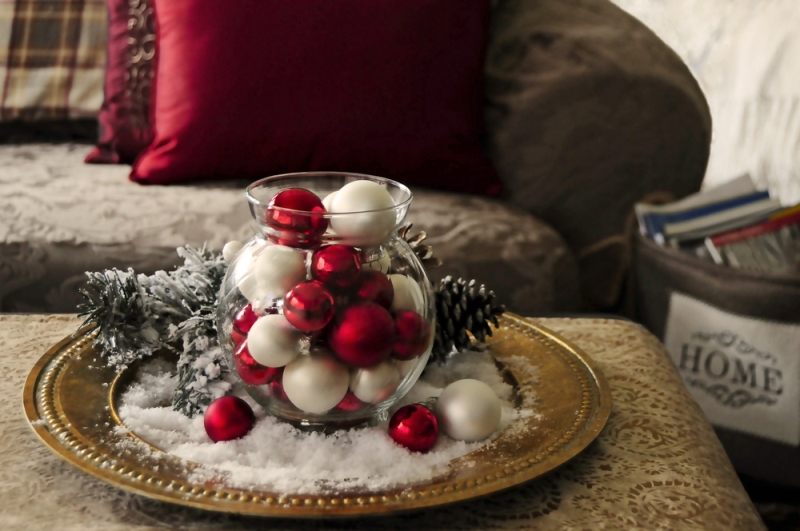 The holiday season paints such a vivid, nostalgic picture for so many. Between the freshly fallen snow, the sparkling Christmas lights, and the magnificent tree with presents galore, there are so many different ways to decorate your home and keep the holiday spirit alive and well.
Even when the silver serving platters are collecting dust before the Thanksgiving and Christmas feasts, there are so many ways to make use of this accessory and create another dazzling decoration.
Here are four different Christmas serving tray decoration ideas:
1. Design a Christmas Centerpiece
The holiday ham isn't the only thing that belongs on the serving platter in the center of the table. If you're looking for an idea for decorating your serving tray that still incorporates it into the holiday feast, consider it the foundation of your centerpiece. Add mums, cranberries, amaryllis, pinecones, and greenery to your serving platter for a festive holiday table decoration.
2. Use it as a Holiday Coffee Table Tray
If you're looking for opportunities to swap your traditional modern accessories around your home with festive options, replace your regular coffee table tray with a bronze tray instead. Add other decorative items like seasonal candles and holiday emblems to achieve the whole holiday vibe.
3. Put Together a Hot Cocoa Bar
This is one of the best serving tray decoration ideas for families with children - or adults who love a nice cup of hot cocoa!
Let your decorative tray act as the serving platter for a hot chocolate bar in your kitchen, dining room, or another entertainment area in your home. Make sure it includes mugs, stirring utensils, hot cocoa mix, marshmallows, and other sweets to craft a delicious warm treat on a cold winter's day. For extra decorative points, hang a cute poster with step-by-step instructions for how to craft the perfect cup of hot cocoa.
4. Create a Candle Display
In need of a new idea for mantel decor for Christmas? Elevate your usual candle setup by adding a decorative serving tray to the mix. Add three tall pillar candles to a long serving tray and surround them with greenery and pinecones or ribbons and small silver bells for a delicate holiday touch.
Shop Wendell August Forge for Decorative Serving Trays
Want to try out one of these cute and crafty decorative serving tray ideas, but need a serving tray to start? At Wendell August Forge, we have a variety of metal serving trays and platters that can be used for both your holiday decor and feast.

Want to take your Christmas home decor to the next level? Shop our decorative serving trays today to prepare for the holiday season!