Posted by Erin Lewis on Sep 20th 2022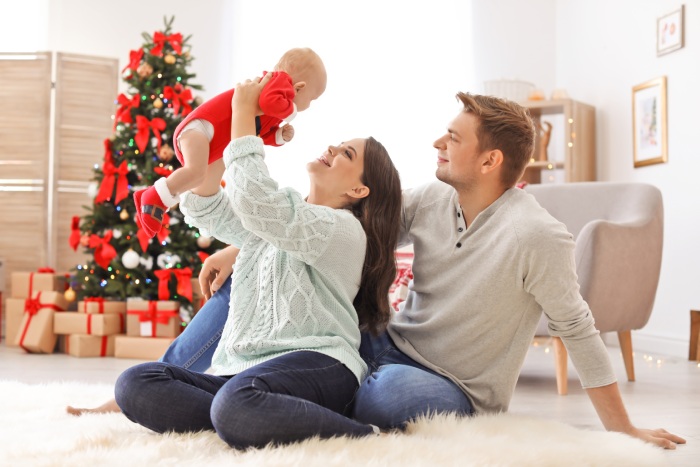 Is there anything more magical than celebrating a baby's first Christmas? There's something so special about enjoying the most wonderful time of the year with a new addition to the family. And welcoming the new little one is made even more special with a cute and unique gift for a baby.
Are you searching for the ideal baby gift or first Christmas gift idea? Shopping for kids between the infant and toddler years doesn't always have to involve onesies and endless baby dolls. Here are our favorite baby girl gift ideas for Christmas.
1. A Princess Play Mat
Does your little girl adore princess stories? Dazzle your daughter with a whimsical play mat that takes her on a fairytale journey. This is a cute Christmas gift idea for a 1 year old baby girl who is getting used to independent play.
2. A Play Gym
If you're looking for a baby girl's first Christmas gift idea that prepares for the years of growing and understanding hand eye coordination, a play gym makes the perfect present! This is a great option for teaching fine motor skills alongside imaginative play.
3. Educational Toys
Educational toys are great Christmas gift ideas for 2 year old baby girls and boys, as this is one of many important developmental milestones. Problem solving activities like puzzles and stacking blocks, as well as baby books and education playsets make great toys for 2-year old children.
4. A Personalized Christmas Ornament
While all of the previously mentioned gifts can be entertaining and fun for baby girl's first Christmas, a tangible memento can be more meaningful and carried on throughout the course of her life.
A personalized ornament is our favorite Christmas gift idea for baby girl for so many reasons. It's a great way to add character to the family Christmas tree, while also showing your direct love and appreciation for the new baby girl. This special aluminum Baby's 1st Christmas Ornament or Princess Crown Ornament, for example, is a gift your baby girl can cherish for a lifetime.
Shop Christmas Gifts at Wendell August Forge
Whether you're searching for Christmas gift ideas for a 1 year old baby or a present for a toddler, we have a variety of the finest custom gifts for the little one in your family.
At Wendell August Forge, we are committed to delivering quality care and craftsmanship in every product we create and deliver. Our unmatched manufacturing process allows us to pay close attention to detail and overall quality, enabling us to provide only the best customized gifts.

Shop our collection of unique baby girl Christmas gift ideas today.