Posted by Erin Lewis on Dec 20th 2022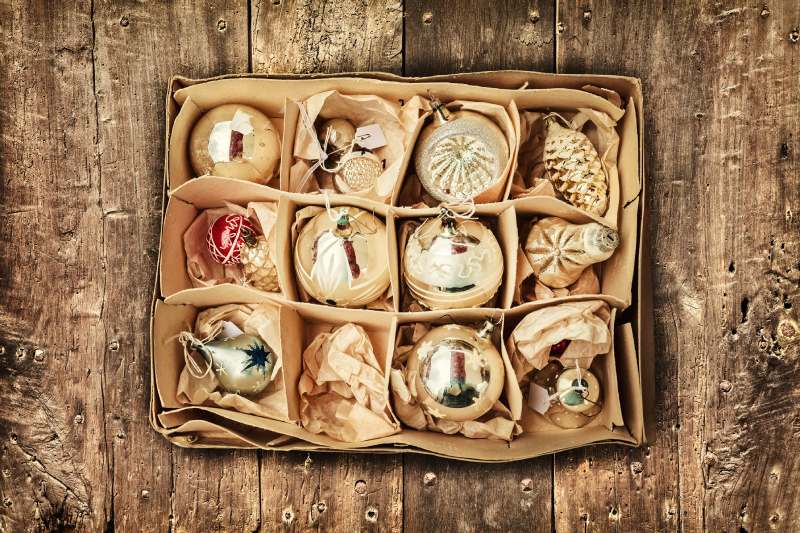 When it comes to holiday decorating, nothing is more fragile or more important than ornaments. These Christmas decorations are often beautiful, delicate, and, of course, sentimental. From baby's first Christmas to grandma's favorite glass bulb, these ornaments can be priceless.
That's why storing Christmas ornaments can be stressful. You want to ensure your fragile ornaments remain in one piece for next year and don't get damaged by humidity, heat, or wandering hands.
Luckily, we have some storage ideas for Christmas ornaments that will help keep your delicate decorations safe year-round.
Ornament Cube
One of the most practical Christmas tree ornament storage ideas is a storage cube. Today, you can find many ornament storage solutions that are cushioned and even include dividers to double as an ornament organizer. These storage cubes can easily be placed in your attic or closet and can even help keep out moisture and dust.
This solution can keep your bulbs safe and protected, though it may not be the best solution for your more delicate holiday ornaments. Use an ornament storage box to place your durable ornaments, then consider getting crafty or add more protection for the rest.
You can find plenty of DIY holiday storage hacks that use plastic cups, coffee filters, and tissue paper (which you'll have plenty of after the holiday season). Even an egg carton makes the perfect cradle for smaller, round ornaments.
Ornament Storage Bag
What about those ornaments that aren't glass baubles? A storage bag is one of the best ornament storage ideas for your flat, medium commemorative ornaments. Wrought ornaments make a stunning addition to your tree, and be even more meaningful when engraved.
Of course, you want to protect these sentimental ornaments for years to come. A soft, fabric bag designed for these decorations is the ideal ornament storage solution. Simply slip each ornament into an individual slot!
This convenient solution even rolls up to be easily stored all while protecting your ornaments from being scratched.
Ornament Display Stand
Storing your ornaments doesn't have to mean packing them away until the next holiday season. With an ornament display stand, you can showcase your favorite decorations year-round in a safe way.
A sturdy display stand is a unique way to display your decorations even after the Christmas tree comes down. The portable stand can be placed anywhere, though we recommend still keeping your ornaments in a safe place like a hutch or high shelf.
Now everyone can enjoy your stunning ornaments no matter the season!
Shop The Best Ornament Storage Ideas
Looking for more wrought and glass ornament storage ideas?
With Wendell August Forge, you can find the perfect ornament storage options & displays to decorate your home during the holidays or throughout the year. We believe that truly exceptional ornaments are made to be seen and enjoyed, and that's why we offer a variety of solutions to showcase and protect your treasured pieces.

Shop our ornament storage solutions and display pieces today.
{ "@context": "https://schema.org", "@type": "BlogPosting", "mainEntityOfPage": { "@type": "WebPage", "@id": "https://www.wendellaugust.com/good-christmas-ornament-storage-ideas" }, "headline": "3 Good Christmas Ornament Storage Ideas", "description": "Worries about damaging your sentimental and delicate ornaments this year? These ornament storage ideas are here to save the day.", "image": "https://www.wendellaugust.com/product_images/uploaded_images/ornament-storage-ideas.jpg", "author": { "@type": "Organization", "name": "Wendell August Forge", "url": "https://www.wendellaugust.com/" }, "publisher": { "@type": "Organization", "name": "Wendell August Forge", "logo": { "@type": "ImageObject", "url": "https://cdn11.bigcommerce.com/s-ekmdhvvdto/images/stencil/500x59/waf-for-web-2_1567604911__59944.original.jpg" } }, "datePublished": "2022-12-20" }