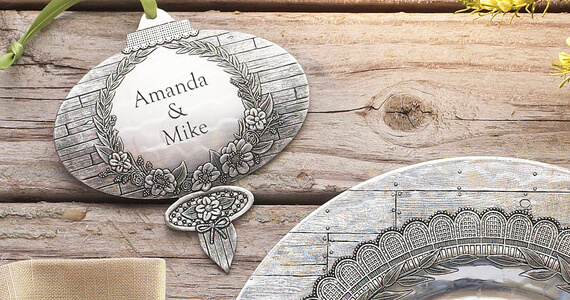 For Life's Special Moments
Personalize your Wendell August Forge gift and let your recipient know how special they truly are – by having their handcrafted gift engraved, just for them. A personalized gift from Wendell August Forge stands out as a lasting impression and helps your friends and loved ones celebrate great memories for years to come.
Our new, state-of-the art engraving takes our personalization process to a new level. We've updated our font selection to include fonts and monograms that speak directly to those special to you. We've added new, personalization-friendly gift items to our offering and greatly simplified our pricing. We've made it easier for you to order - you'll see directly on each product page exactly where an item can be personalized, and we walk you through each step of the process to make it a reality.
Our lead times are fast…your personalized gift will ship within 5-7 days after you order it.
Personalize gifts for Christmas, weddings, anniversaries, births, graduations, Mother's Day, Father's Day and any other significant occasion in the lives of those you care about. Add a name, dates, their monogram, a special phrase or message and make your gift even that more meaningful!
---
Fonts Available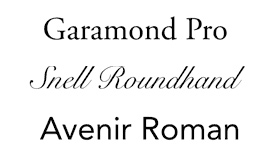 Pricing:
$7.50 per location (Front or back) on small items
$15.00 per location (front or back) on large items
Many of our jewelry items include free personalization. See individual items for details.
---
Monograms Styles Available

Pricing:
$7.50 per item
Monograms are included in the price of select jewelry pieces. See individual products for available monogram location.
---
Helpful Hints
Here are some ideas on the best ways our customers have found to personalize their gifts over the years.
For yourself or someone else, add a name for a simple personal touch. First, Last or Both, in the font of your choice will make a gift special for a child, friend, coworker or loved one.

Bob and Erin
Anna
Joshua Lewis

Commemorate anniversaries, births, graduations and more. A special gift with a special date turns into a keepsake that will last a lifetime.

Ray and Karen
50th Anniversary
Congratulations Emily
Grove City College
Class of 2018
Sophia Grace Dunlap
March 16, 2017

First home, memorable vacations and hostess thank you gifts will be thought of fondly with a personalized commemorative.

Cape May
Our Home Away from Home
342 Oak Street
Our First Home
Select from gifts for the couple, guest favors, groomsmen and bridesmaid gifts, or a gift for a loved one who made a wedding special. A personalized gift is the perfect way to remember that special day.

Samantha and Seth
October 14, 2018
Maid of Honor
Alissa
Thank you mom and dad
for making my princess
wedding a reality

Sometimes simple words have the most impact. Add a special word to any gift to make it more meaningful.

Say exactly what you want on a canvas of metal, and touch the heart of someone special

Merry Christmas!
Love from Mom
When someone you love becomes a memory, the memory becomes a treasure

First Initial, Last Initial, Middle Initial

Wife's First Initial, Couple's Last Name Initial, Husband's First Initial