Posted by Erin Lewis on Aug 17th 2022
It's never too early to begin thinking about holiday gifts. This is especially true if your friends or family recently welcomed a new baby!
The first holiday with a newborn baby is an exciting time, but it can also be difficult coming up with the best gift ideas. Luckily, we've compiled some of the best baby boy Christmas gift ideas that can help inspire you!
These Christmas gift ideas for baby boys are sure to make a meaningful impression this holiday season.
1. Baby Bear Gift Set
When it comes to baby boy first Christmas gift ideas, this set is sure to stand out. It includes a personalized baby bear ornament that marks his first Christmas and his parents are sure to cherish it for years to come. It also includes an adorable plush bear blanket that will keep him cozy and cute - perfect for holiday photos!
This set comes in our signature 'present' box, so it's ready for gifting.
Baby Boy First Christmas Ornament with Crystals
Mark baby's first Christmas with our ever-popular Baby's 1st Signature Round Ornament. This classic ornament features crystals that add a little extra sparkle to any Christmas tree. This hammered heirloom is sure to be cherished for generations.
This Christmas gift idea for a newborn baby boy is also available for the new baby girl in your life.
Personalized Baby Animals Decorative Plate
New parent's will no doubt be showered in gifts this holiday season. From plush toys and stuffed animals to diaper bags and hooded towels, this gift is sure to stand out among the baby toys. The excitement and wonder of the new baby's arrival is portrayed in exquisite detail on an eye-catching decorative plate.
You can even personalize this great baby boy Christmas gift idea with all the details of the birth to make it extra special.
Personalized Knight in Shining Armor Ornament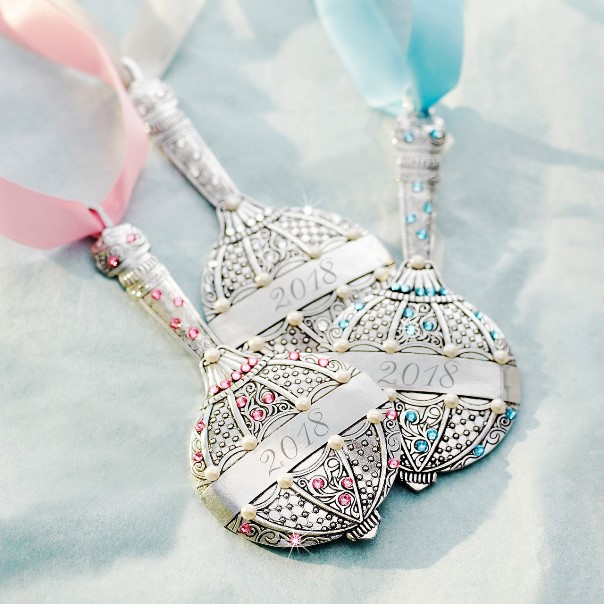 Need Christmas gift ideas for a 6 month baby boy or older? The Knight in Shining Armor Shield Ornament can be personalized to create the perfect gift for a little boy that will be cherished for a lifetime.
This Christmas gift idea for the baby boy in your life is something he will grow up loving.
Baby's First Rattle Ornament in Blue
Rattles have long been a classic gift for babies, and now you can present one that's every-lasting. The Baby Rattle Ornament is simply stunning, and each is handcrafted with intricate Victorian detail. Elegantly boxed with a beautiful card, this gift makes a perfect stocking stuffer.
Each ornament is adorned with crystals and pearls in options of blue, pink, or white. It is sure to stand out on a Christmas tree but is also versatile enough to make a statement in any nursery's decor.

Looking for more baby boy Christmas gift ideas for the newborn in your life? Wendell August Forge offers a selection of hand crafted and meaningful gifts that are perfect for new parents and their baby. Shop all our personalized baby gifts today.